Web Calendar for Mobile Devices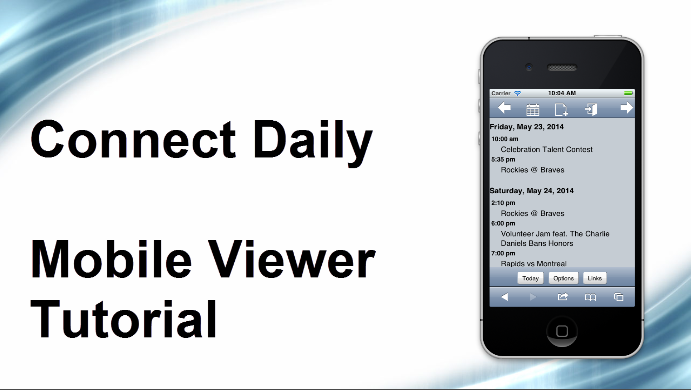 View and edit calendars anywhere.
Works with all major handheld operating systems.
High performance for any network.
No app stores to visit or software to install.
Connect Daily

is a web calendar that supports mobile devices.

Connect Daily

is a complete web calendar application with outstanding support for mobile devices. You can use the same web calendar for your web site, support mobile users, and manage your facility. One application does it all.

The mobile version of

Connect Daily

is:
Part of the

Connect Daily

web calendar. There's no separate software to license to use the mobile views.
Optimized for small displays.
Optimized for low bandwidth connections.
Simplified user interface.
HTML 5 for maximum portability.
No confusing app stores to visit or software to install and configure.
If you're using a tablet device, the standard browser version of
Connect Daily
will continue to work well. The mobile screens are really about small-display devices.
The mobile version has the ability to view calendars and create events. As with the standard version of
Connect Daily
, you can view calendars, by resource, resource type, event type, or calendar. You can also create and edit events using your handheld. If your calendar allows the public to add events, then the same event creation screen can be used by regular users, and public users.
The performance of the mobile views on phones is exceptionally quick. Navigation through the calendar makes very small requests back to the server allowing for snappy performance.
The mobile views are created using HTML 5. What this means for you is that you don't have to go to an App store and install something on the handheld. It also means the application works the same on Android, Apple, Windows Phone, and BlackBerry devices.
To help you get started with the mobile version, we've created a tutorial on how to use it. You can
view the tutorial here
.
Events - Resources - One Solution --> Get Connected! --> Get Connect Daily!